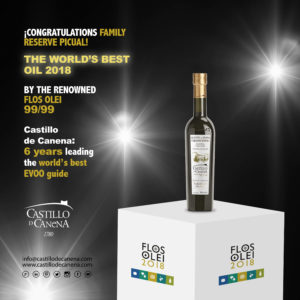 Dear friends,
We are are to be congratulated!! we will finish the year 2017 with great news that we want to share with all of you … The most prestigious international EVOOs guide, the Flos Olei, published in Italy, has awarded us with a very special prize:  "The world's best olive oil" They have choosen us among more than 500 olive oils that are included in their publication!
In addition to this, our  Family Reserve Picual has been awarded with 99 points, the highest score in the Flos Olei guide. One more year, and after six consecutive years, we lead the ranking of this "Bible" of the most excellent olive juices in the world.
Thanks a lot for your support!!
Today our general manager, Francisco Vañó receives the award in Roma by Marco Oreggia & Laura Marinelli!!