Enjoy La Chandeleur with your favorite crêpes, here are two options to share with family and friends.
On this occasion we have focused on some of the many options that gives us our Arbequina& Co olive oil (99.5% Arbequina EVOO + natural essential oils of different plants, flowers and fruits) …
Do not miss it!
Salty crêpes tip:
Prepare a mayonnaise with chopped surimi and shrimp, add a few drops of Arbequina & Co 02 (to taste) and enjoy it with your crêpes!
Arbequina& Co 02 will contribute a delicious citric touch thanks to the essential of lemon, fennel and mint, in addition to the healthy part that already contributes our extra virgin olive oil arbequina.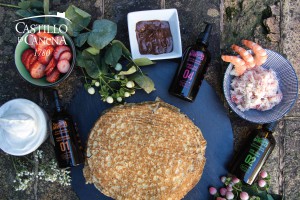 Recipe for a sweet crêpe with a very special chocolate and cream:
Prepare your crêpes with natural strawberries and add a very special touch: add a few drops of Arbequina&Co 04 to the molten chocolate and a few drops of Arbequina&Co 01 to the cream.
You will see how Arbequina&Co 01 will make the cream have a surprising taste thanks to the essential of bitter orange, thyme and orange blossom; and Arbequina&Co 04 will make your chocolate the delight of all thanks to its essentials of cinnamon, walnut and bergamot.
And ready to spend a sweet chandeleur!