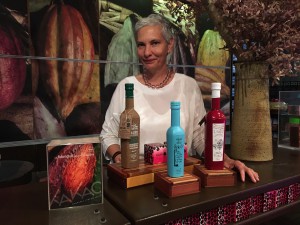 Today we share with you the adventure of our extra virgin olive oils in hands of one of the best chefs in Venezuela!
Our dear friend chef Maria Fernanda di Giacobbe has made the most delicious chocolates we've ever tasted from different types of Venezuelan chocolates and … with our EVOO!!
Maria Fernanda is the winner chef of the Basque Culinary World Prize, for her great social, entrepreneurial and Venezuelan chocolatier work on cacao as a source of identity, culture and economic wealth.
The insuperable chocolates that you can see in the photos are made of different types of cacao and some of our oils as First Day of Harvest Arbequina, Picual Biodynamic and Oak Smoked Arbequina olive oil…
Here we leave some proofs…. wouldn't you like to eat the photos?!  😀