It is an honor to announce the beginning of our collaboration with the team of UCM "Con Mucho Gusto"!
Next to team integrated by professionals such as teachers of the UCM Dr. Beatriz Miguel Beltran and Dr. Carmen Cuadrado Vives & the nutritionist Luisa Solano. We want to achieve some objectives which are:
– Promote research and knowledge on the use and consumption of extra virgin olive oil as a source of health, pleasure and culture.
– Contribute to the dissemination of that knowledge to the consumer, providing content with scientific and technical support on different EVOO and culinary versatility and dietetics, always in the service of individual and environmental health.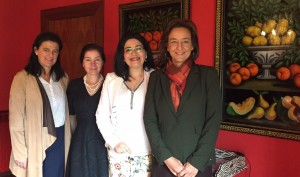 Thanks to this collaboration agreement, we will begin with a first project that specifically work to improve swallowing and palatability of food eaten by older people who have severe problems to take conventionally prepared food . We seek to increase their quality of life, taste of the products and to incorporate into their diet an extremely healthy food as the EVOO.
April 2016