The Medinaceli Family  launched yesterday at Casa de Pilatos (Sevilla) the Duchess of Medinaceli EVOO, a special blend of Arbequina of our best terroir collected at different moments of the harvest. This Extra Virgin Olive Oil Arbequina that we have developed specially for the Medinaceli family, is known for its fruity tasting notes and a very complex and delicate structure in mouth.
Arbequina was introduced in Spain in the 18th century by the Duke of Medinaceli, Arberca Baron, who brought it from Palestine. That is why the House of Medinaceli  wanted to pay tribute to the origin of this variety, launching a new limited edition of  Arbequina olive oil, and they have chosen our brand Castillo de Canena for producing it.
"The reasons why we have decided to start this fascinating project in the hands of Castillo de Canena is because we have looked for the excellency in quality for our products, from the very first moment. Besides, there is a historical link between Medinaceli Family and Castillo de Canena", said Pablo Hohenlohe,  co-chairman of the Ducal House of Medinaceli Foundation.
Francisco Vañó, Castillo de Canena CEO, explained that "The new EVOO is a blend of Arbequinas olive's juices, which are collected from the first fruits early harvest with powerful features and intense green notes, and also from arbequinas collected in November, in the late autumn, with more tenuous and delicate expressiveness … all from the same terroir of our farm, where we have selected the best fruits for this limited edition".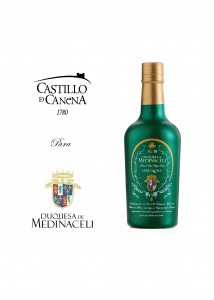 You can find our latest project,  Duchess of Medinaceli EVOO, in the stores of the foundation monuments (Casa de Pilatos in Sevilla, the Chapel of the Saviour Ubeda, the Oca Palace in Pontevedra and the Tavera Hospital in Toledo), as well as in many other prestigious institutions, in Spain and abroad.
It is interesting to note that the graphic design of this brand is based on a manuscript of the 14th century, in a series of drawings and decorative heraldic ornaments, by the time of the I Count of Medinaceli. It presents a metallic green bottle with a delicate screen printing in the colors of the house.
Undoubtedly, there has been a great honor to be part of this special project.
We hope you like it,
September 2015