For those of you who are not lucky enough to enjoy our olive grove throughout the year … today we move you there! We will go through the year …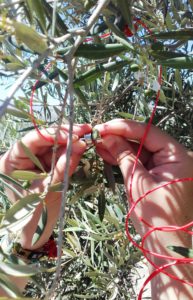 Flowering on our plantation began in early May. It was abundant and proper, so this year we had a Harvest in syntony with previous years.
Temperatures have been quite high during spring & summer, toghether with not many rainfalls. This situation hardly palliated a deep storm that affected the Northeast of Andalusia at the end of September. Despite all of this, summer wasn't really extreme, as weather was quite moderated during afternoons.
Agronomically, we have keep developing a nutrition plan during the whole year, both on root & foliar level. It has been based on new analytical techniques based on sap & with a meticolous irrigation plan.
Our fight against pests has been based again on something in which we really believe and that is part of our philosophy: the stimulation of the auxiliary fauna present in the ecosystem infrastructure (mature plant cover).
Start of rippening has been anticipated several weeks, (in contrast to past harvests) and has progressed very quickly due to strong thermal variables (days of warmth and immediately after, with quite low temperatures and even rain).