Juan Bravo restaurant, opened few months ago in the Plaza Mayor of Segovia (Spain), next to the historic Juan Bravo Theater, has become one of the obligatory gastronomic visits in the city.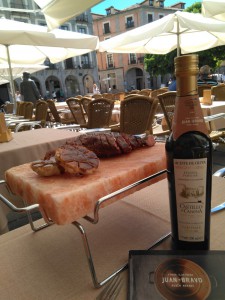 It's the new project by chef Ruben Arnanz, awarded with 1 Michelin star thanks to his cuisine in the restaurant Villena (also in Segovia). In this new wager, the chef is committed to create a relaxed place, where he highlight the roots of his kitchen and where, from the first moment when you sit at the table, you are warned that it's a cuisine designed to share and enjoy between all the diners at the table.
It is an honor that our different Castillo de Canena olive oils are part of this amazing project!! Because, another great feature of this restaurant is its great commitment to respect of quality products.
If you want to enjoy the most creative Castilian cuisine and our extra virgin olive oils, plan a trip to Segovia !!
Here some of their delicious dishes!