We want to share with you an easy and healthy recipe from our friends of Gastronomía&Cía blog. It is a refreshing red quinoa salad with fennel and cherry tomatoes dressed with the special touch of our Arbequina&Co 02 composed of 99.5% Arbequina EVOO and essential oils of lemon, fennel and mint.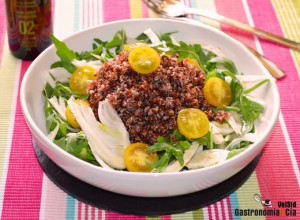 Ingredients
200 grams of red quinoa, 1 small fennel bulb, 40-50 grams of arugula, 20 yellow cherry tomatoes, salt, extra virgin olive oil Arbequina, a few drops of  Arbequina&Co 02 (lemon, fennel and mint).
Elaboration
Put the quinoa in a pan with 600 grams of water and salt to taste. Bring to boil, covered, and when it start boiling, reduce the heat and let cook about half an hour, until the quinoa is tender and water has been consumed.
Meanwhile, prepare the remaining salad ingredients, peel the fennel bulb and cut it into a fine julienne. Mix the fennel with arugula in a bowl. Before serving, add salt and extra virgin olive oil.
Wash and dry well yellow cherry tomatoes (although if you prefer another type of tomato can be changed), cut them in half and reserve.
Finishing and presentation
Serve the fennel salad and drizzled arugula on plates , distribute in the center red quinoa and around the cherry tomatoes. Dress the quinoa combining extra virgin olive oil Arbequina with Arbequina&Co 02, the proportion to taste. Bon Appetite!
Font: Gastronomía&Cía