INGREDIENTS
Bread Tostado Mini by Triticum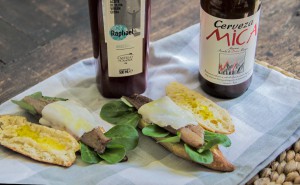 Smoked sardines
Acorn Iberian bacon
Watercress
Castillo de Canena First Day of Harvest Arbequina EVOO
MICA Oro Ale Premium artisanal beer
PREPARATION
First, we will freeze the piece of Iberian bacon and then, when frozen, we will cut some thin slices with a mandolin slicer.
Open the Mini Toasted bread of Triticum, which stand out for its progressive flavor and  eternal crunchy, and cover well with Castillo de Canena First Day of Harvest Arbequina extra virgin olive oil. Then make a bed of fresh watercress and put the smoked sardines on them.
We will cover sardines with a thin layer of Iberian bacon and again end it up with our First Day of Harvest Arbequina EVOO.
A very simple but surprising sandwich! It's a delight! specially if you accompany it with a craft beer that perfectly pair with it as MICA Oro Ale Premium (MICA microbrewery). It has an intense and bright yellow color, an intense in flavor, but with a low alcoholic strength. This craft beer is made from the barley grown in the highlands of Ribera del Duero, particularly in Fuentenebro (Burgos). It is a very fresh and balanced beer; a blonde one but with a very soft toasted touch that you will feel in your mouth.