This year we want to surprise you with some special garnish for this special day … see how they beautiful look!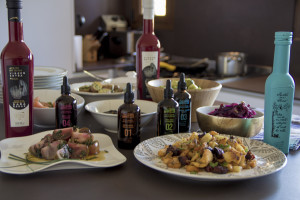 4 Side dishes with basic ingredients that will surprise you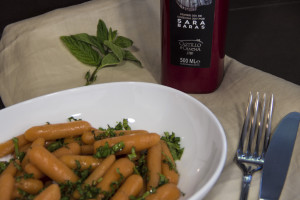 Baby carrots with mint and our EVOO First Day of Harvest Arbequina. Just boil baby carrots, sprinkle fresh mint on top and finish with our extra virgin olive oil … so fast and delicious!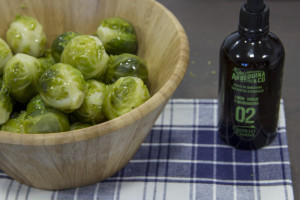 Brussels sprouts with lime zest and Arbequina & Co 02.
As easy as the previous one; boil as many brussels sprouts as you wish and sprinkle lime zest over the top. Finish with Arbequina & Co 02 preferably, although we encourage you to try the result with all the Arbequina&co numbers!!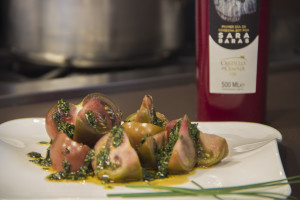 Tomato salad with a special dressing based on our EVOO First Day of Harvest Picual, fresh chives, sweet soy & mix of oriental spices to taste (cumin, parsley, ginger, paprika, black pepper, …) … You will love the result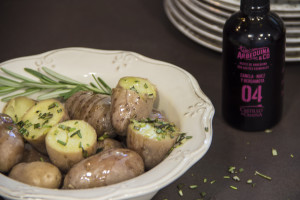 Small potatos boiled (or roasted) with fresh rosemary and Arbequina & Co 04. Boil or roast the potatoes (depending on what you like most) and sprinkle fresh rosemary chopped on top. Finish with Arbequina & Co 04 … unbeatable!
3 more elaborate side dishes:
Cranberry sauce with a unique touch thanks to Arbequina & Co 01
We will add as many droplets as we wish and it will be very colorful if we decorate with orange zest on top.
INGREDIENTS: 1 jar of blueberry jam, the juice of 2 oranges, half orange zest, half lime zest, a pinch of grated ginger, fresh blueberries, Arbequina & Co 01 olive oil.
PREPARATION: Mix all the ingredients except the olive oil and put on the fire stirring to mix well. Next, add a few drops of Arbequina & Co 01 olive oil. Serve hot with the turkey!
INGREDIENTS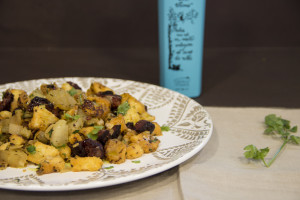 Iberian chorizo
1 onion
1 chopped garlic
Dried oregano
Fresh rosemary
Coriander
Mold bread cubes
3 Pears
Arbequina Oak smoked Olive Oil
 PREPARATION
Sauté the chopped onion together with the garlic and the Iberian sausage also cut into small pieces in EVOO.
Add peeled and diced pears to skillet. Sprinkle with oregano and chopped rosemary. Let the pear soften for a couple of minutes.
We add the cubes of bread mold to the mixture and let them roast. We finished with our Arbequina Oak smoked Olive Oil  and with a little fresh chopped cilantro
Ready to serve!
INGREDIENTS
1 Lombarda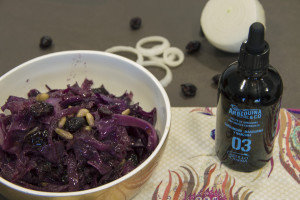 2 sweet onions
1 bottle red wine
2 apples in cubes
Dehydrated cranberries
Pinions
Vinegar
Cloves
PREPARATION
We put the blueberries to hydrate in a glass of red wine for about 20 '.
Meanwhile, sauté the onions cut in EVOO. Then we throw the red cabbage already cut and leave a couple of minutes.
We add the apples cut in cubes.
Add a splash of vinegar and some cloves together with 500ml of red wine and let it reduce.
We let cook and in the last 10 minutes, we add the pine nuts and the blueberries already hydrated.
If you want more ideas for Thanksgiving, we leave you the recipes of previous years … we recommend the turkey!
– Turkey with its filling + ears + beans + pumpkin pie.
– Bloody Mary + several appetizers + turkey + carrot and pumpkin pie.