Ingredients:
Rice noodles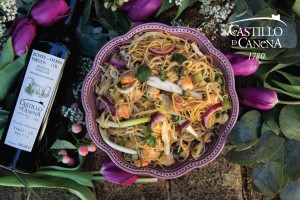 Red onion
Coriander
Cooked shrimp
Chive
Chicken Breast in dice
Lime
Soy sauce
Red Chili (optional)
Family Reserve Picual Castillo de Canena EVOO
Preparation:
Cook the rice noodles and reserve. In a wok, pour some Family Reserve Picual extra virgin olive oil. Then add the chicken cubes, onion, cilantro and chive (already chopped). Add the boiled shrimps (already chopped as well).
Prepare a mixture with soy sauce, Family Reserve Picual EVOO and finely chopped red chili (optional). Add the rice noodles to the wok and afterwards, the sauce that we've just prepared. Stir for a few seconds.
We can serve now! Enjoy this lovely day!