This spicy, hearty and comforting soup is inspired by Moroccan cuisine. It can be enjoyed both for lunch and dinner. Lentils are rich in fiber and protein, with significant amounts of manganese, iron, phosphorus, thiamin and vitamin B6.
Couscous is a very good source of selenium. The spices will keep you warm and boost your energy. They have additionally antiinflammatory and anti-oxidant properties. Chicken meat is a good source phosphorus, selenium, niacin and other B complex vitamins.
INGREDIENTS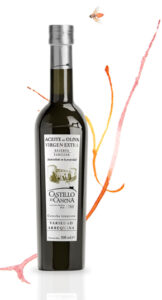 240 g = 8½ oz Chicken breast (high quality, from a reliable source)
Crema de almendras
200 g = 7 oz Almonds (blanched)
120 – 180 ml = ½ – ¾ cup Water
Extra virgin olive oil: Castillo de Canena Family Reserve Arbequina
To taste – Salt
Spicy Lentil Soup:
800 ml = 3⅓ cup Water
200 g = 7 oz Lentils (for example green)
100 g = 3½ oz Couscous
1 onion
200 g = 7 oz Carrots
200 g = 7 oz Tomatoes
50 g = 1¾ oz Celery
2 g = 1 tsp Turmeric
2 g = 1 tsp Cumin
0,75 g = ⅓ tsp Cinnamon
30 ml = 2 tbsp Lemon juice
To taste – Chili (fresh)
To taste – Cilantro (optional; garnish)
To taste – Salt
PREPARATION
Almond Cream:
Soak the almonds overnight. Blend the almonds, olive oil, water and salt until smooth and creamy. Adjust water and seasoning if necessary.
Spicy Lentil Soup:
Soak the lentils overnight. Boil them in salted water and set aside. Boil the couscous in salted water and set aside.
Heat up some olive oil in a large pot. Add chopped onions and let it caramelize. Add chopped carrots and tomatoes, and let them caramelize as well.
Add turmeric, cumin and cinnamon. Add celery. Mix well. Then add water and bring it to a boil. Let it simmer for a while. Using an immersion (hand) blender carefully blend the soup.
Then stir in lemon juice and add chili peppers. Simmer for few minutes more. In the meantime slice the chicken and then grill it to your liking.
Assemble the dish as in the photo or to your liking.