Sohan-e Qom is very special and unique buttery saffron brittle from the city of Qom (Iran). The addictive composition of butter, saffron, pistachios, rosewater and cardamom makes it impossible to resist.
Although the ingredients are simple, the right equipment and the process are of great importance. It's almost impossible to make the authentic Sohan-e Qom at home.
My vegan and dairy-free version replaces butter with olive oil, keeping other traditionalm ingredients and paying tribute to this fantastic Persian sweet.
INGREDIENTS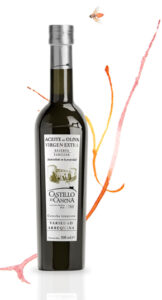 57 g – 2 oz Wheat flour
57 g – 2 oz Sprouted wheat flour
100 g – 3½ oz Coconut sugar
40 g – 1½ oz Honey
Extra virgin olive oil: Family Reserve Arbequina
40 ml – 2¾ tbsp Rosewater
30 ml – 2 tbsp Water
5 g – 2 tsp (approx.) Cardamom
5 g – 3 tsp (approx.) Saffron
10 g – 1 tbsp Almonds (silvered)
10 g – 1 tbsp Pistachio (shelled, raw, unsalted; crushed)
PREPARATION
Grind cardamom and saffron into powder. Place a large piece of baking paper or silicone baking matt on your kitchen counter. You will pour the hot sohan mixture on top of it to cool.
Add the flour and coconut sugar to a medium-sized non-stick sauce pan and heat over medium-high heat for 2-3 minutes (stirring frequently). Add in the water and stir until all the sugars are dissolved and the mixture comes to a boil.
Continue stirring vigorously all the time. Add in the olive oil. Add in the salt and spices and continue to stir.
Using a candy thermometer control the temperature. The sohan mix should reach about 126°C (= 260°F).
When the mix reaches this temperature, remove from the heat, stir the almonds immediately and promptly pour the mix onto the baking paper or silicone baking matt into small circles (well separated from each other).
Sprinkle the crushed pistachio on top of the sohan circles and using a flat meat pounder (or other tool of your choice) crush the pistachios into the sohan until it's flattened out.
Assemble the dish as in the photo or to your liking.