The Governing Board of the Professional Excellence Institute has selected us as one of the Excellence Awards of the Year 2019!
It is an honour to receive the Award of Excellence, something that every member of Castillo de Canena struggles every day: to achieve the excellence of our extra virgin olive oils and also the best to our partners and customers around the world.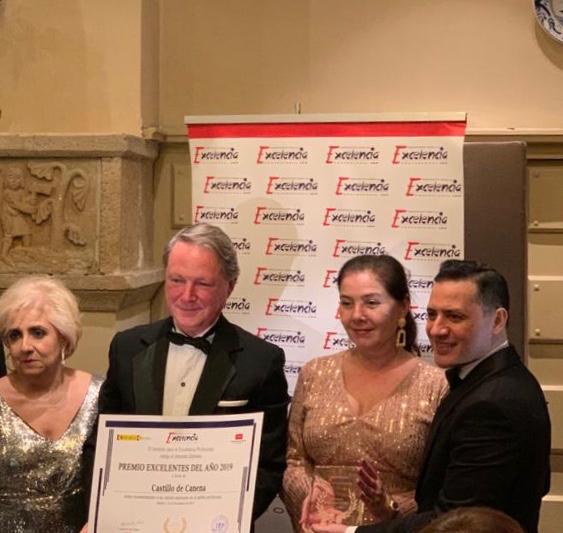 This is the second edition of this award, and it reflects the exemplary and inspiring professional experiences of the Institute. The award will be presented as part of an extraordinary Charity Gala in favour of the Civil Guard Orphans Association.
The 2019 Awards for Excellence publicly recognize the high professional, academic and personal values, of the award winners who serve as a reference for Society. Avant-garde, innovative, environmental challenges, the ability to address issues such as inclusion and equality within the business framework are today challenges to be faced, changing these new realities into advantages and opportunities. Nowadays, being more competitive means modernizing communication channels, reinforcing the image of the product and betting on innovation, contributing to create a more modern and fairer productive fabric that bets on talent in all its plurality.
The Institute's Honorary Advisors include H.R.H. Maria Luisa of Prussia, Mr. Luis Cobos, composer, conductor and President of the AIE (Asociación de Intérpretes y Ejecutantes), Mr. Jesús Cimarro, President of the Academy of the Performing Arts of Spain and Theatre Producer, Prof. Cimarro, President of the Academy. Mr. Carlos Jesús Ruiz Cosano, President of the Club de la Constitución, Mr. Luis del Olmo, Journalist and radio announcer, Doctor Honoris Causa from the Universidad Rey Juan Carlos de Madrid, Ms. Lola Herrera, Actress, Mr. Carlos Pérez, Director of the AIE (Asociación de Intérpretes y Ejecutantes), Mr. José Luis del Olmo, Director of the Orchestra and President of the AIE (Asociación de Intérpretes y Ejecutantes). Emilio Butragueño Santos, Director of Institutional Relations of the Real Madrid C.F., Mr. Gerardo Seeliger, former President of the Club Siglo XXI, Mr. Bertín Osborne, Singer and Businessman, Dr. Enrique A. García Melón, University Professor, Doctor in Marine Sciences and Civil Navy, Degree in Nautical and Maritime Transport, Dr. Leandro Plaza Celemín, Former President of the Spanish Heart Foundation, and Mr. Manuel Santana, Former Professional Sportsman.
Members of Honor of our Institution are: Father Ángel García, Founder of "Mensajeros de la Paz" and Premio Principe de Asturias, Excmo. Mr. Ángel Galindo García, former Rector of the Pontifical University of Salamanca, Mr. Vicente del Bosque, Marquis of Del Bosque, ex-official coach of the Spanish National Football Team and Mr. Antonio López, Painter, Sculptor and Premio Principe de Asturias. As Honorary Members in Memoriam of the Institute are the following personalities Mr. Adolfo Suárez González, Duke of Suárez, Premio Principe de Asturias, Mr. Ángel Antonio Mingote, Marquis of Daroca, Drawer, Writer, Academic of the Spanish Language and Journalist, and Ms. Montserrat Caballé, Spanish lyric singer.