INGREDIENTS
180g round rice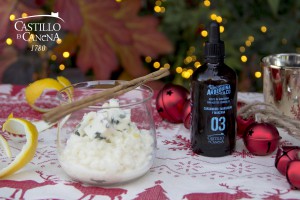 1.5 liters of whole milk
180g sugar
1 lemon skin
1 cinnamon stick
½ glass of water
Roquefort cheese or blue cheese
Castillo de Canena Arbequina & Co EVOO
PREPARATION
Put rice and water in a pot. In low temperature, let the rice cook, just for a few minutes. When the rice has absorbed all the water, we will add the milk, the skin of the lemon and the cinnamon stick. Let it simmer while stiring continuously, until the rice is well done.
Once cooked, add the sugar and let simmer for 5 minutes more. Remove the cinnamon stick and the lemon peel.
Fill the mixture into individual cups and let stand.
Chop the Roquefort cheese into small pieces and place on top of the rice. Finish with a few drops of Castillo de Canena Arbequina&Co 03 olive oil.
You haven't ever tasted a pudding like this!