INGREDIENTS
1 turkey of 5 Kgs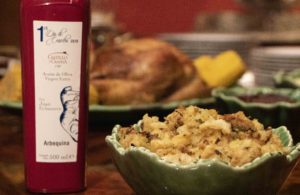 2 liters of chicken stock
1 liter of white wine
20 cloves
Ground cinnamon
Small french onions
Extra Virgin Olive Oil First Day Of Harvest Arbequino 
Salt
PREPARATION
Clean the turkey and spread with Extra Virgin Olive Oil First Day Of Harvest Arbequino 
Bake in the oven at 180 degrees during approximately 2.5 to 3 hours, depending on if you like pretty much done or not.
Mix 1 liter of chicken stock, ½ liter of wine 10 cloves and 1 tablespoon of ground cinnamon.
After ten minutes of being in the oven, let's water the turkey with half of the mixture. Prepare the other half of the liquid and keep watering the turkey every 10 minutes, turning it in order to have all sides browned.
Boil the onions. Sauté them with First Day Of Harvest Arbequino EVOO.
Once the turkey is done, remove from oven, let cool and carve it. Garnish with the onions. Serve the sauce in other part.