Jaén Gourmet will celebrate a tribute to the trajectory and entrepreneurship of Mr. Luis Vañó with the early harvest extra virgin olive oils from Jaén.
Our president Mr. Luis Vañó grew up in the Andalusian province of Jaén. He graduated in Economics and Law from the University of Chicago and was awarded the Honoris Causa by the University of Metz (France).
Since its beginning, Don Luis has been involved with Castillo de Canena until it has become a leading company in the olive sector, nationally and internationally.
On the occasion of  "Jaén Gourmet" (exhibition dedicated to professionals of the hotel and food industry), a homage to our president will be held in gratefulness to his trajectory and to his entrepreneurship in the domain of early harvest extra virgin olive oils in Spain.
It is an honor for all the team of Castillo de Canena to have a president with such remarkable trajectory and that has allowed our company to go so far.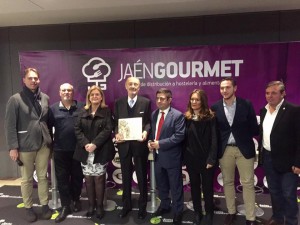 We warmly thank to the province of Jaen and, specially he President of the Provincial Council of Jaén, Francisco Reyes; the subdelegate of the Government of Spain in Jaén, Francisca Molina Navarrete; the Councilor for Tourism, Historic Center and Economic Promotion, Charo Morales de Coca; and Alberto Molinero, President of the Jaén Gastronomic Foundation.
The event will be held during the inauguration of JAÉN GOURMET exhibition, at HO Hotel in Jaén, today  February 9th, at 20:30 h.