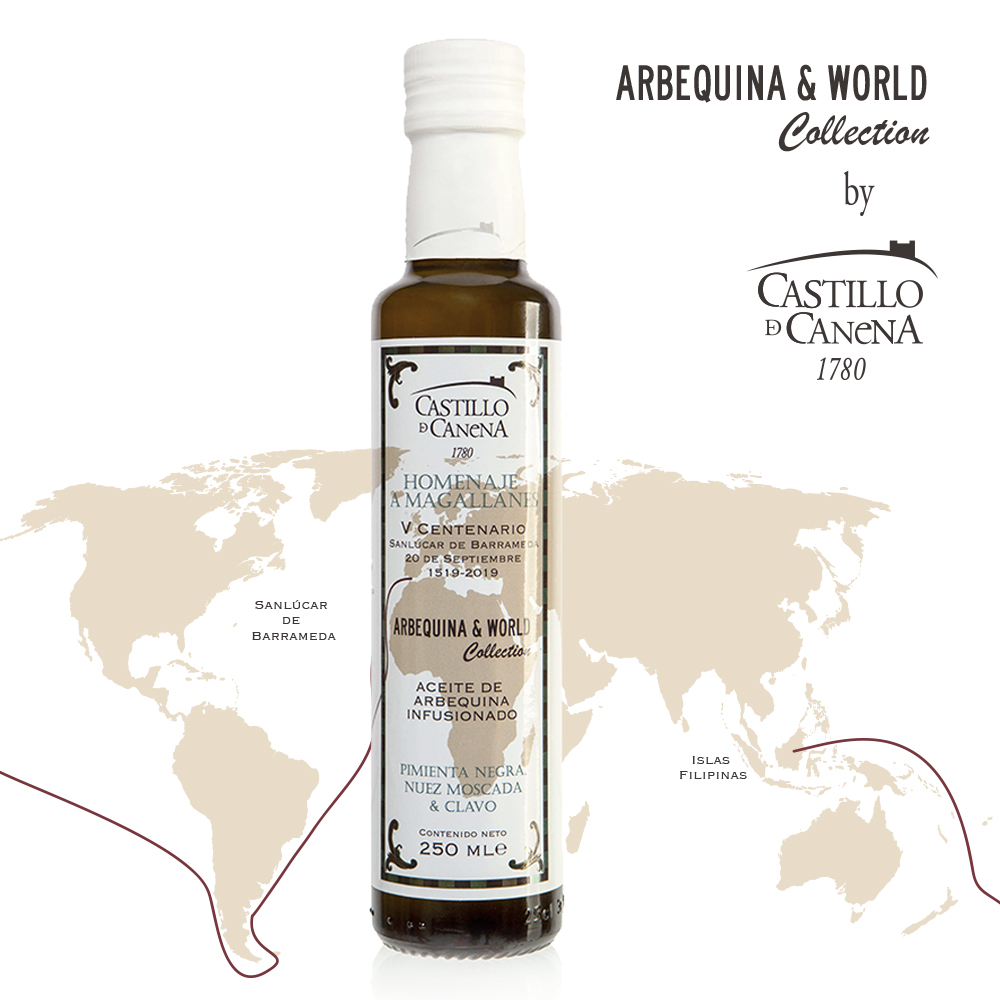 Castillo de Canena pays tribute to the deed of Fernando de Magellan, the Portuguese sailor in the service of the Crown of Spain, as Admiral of what is known as the Flota las Especias (Fleet of the Spices), who set out with his companions from Sanlúcar de Barrameda on September the 20th, 1519, in what was the beginning of the first voyage around the world.
To mark the 5th centenary of the launch of this pioneering expedition, Castillo de Canena has produced a special edition of Arbequina & World Magallanes – limited to 150 bottles – embodying a tribute to the olive oil and spices which were gathered in the bilges of the ships that began this glorious company. This tribute is based on the experience of our Arbequina&World infused olive oils.
The storerooms of the galleons of the fleet commanded by Magellan were loaded with barrels full of olive oil and other food, such as meat and fish, preserved in these same juices. After crossing the Pacific Ocean and before arriving at the Maluku Islands, the explorers docked on the islands of Guam and Cebu, where they set about collecting different varieties of spices. Thus began the union between olive oil and the exotic seeds of the East. Both the spices and the olive juices were, at that time, used for their flavouring properties, as a dressing, flavour enhancers and as excellent food preservatives. Both were on board the Spanish Fleet even after the death of Magellan on the Philippine island of Mactan in April 1521.
The courageous Portuguese sailor did not survive to witness the completion of the circumnavigation of the globe, but he laid the groundwork for one of his captains, Juan Sebastián Elcano, to do so the following year in command of the ship Victoria. Castillo de Canena also plans to pay a special tribute to Elcano's achievement to coincide with the 5th centenary of the arrival of the rest of the expedition at Sanlucar de Barrameda on September the 6th, 1522.
Castillo de Canena's tribute to the memory of the Portuguese explorer has taken the form of an Arbequino infused with the three spices which the explorers, under Magellan's command, were able to collect on the first islands they reached: nutmeg, clove and black pepper. The project has also involved the collaboration of Master Picolier Marcos Reguera, who selected the seeds and ensured the correct blend was achieved.
Follow the adventure with our oils infused with spices from the world of Arbequina&World.