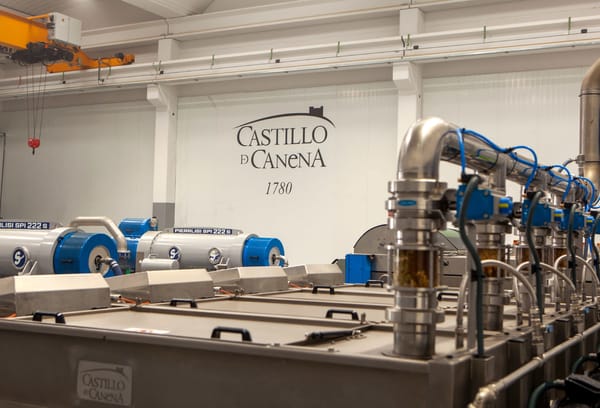 The Process
At Castillo de Canena we take care of every detail so that, from the moment of harvesting to the delivery of our product, our oils are excellent.
Harvesting our olives at the optimum moment of ripening is one of the keys to achieving this. For this reason, each year tests are carried out in different sectors and plots of the estate to determine in which area and at what time the best juices are obtained, a basic starting point for creating a magnificent end product.
Once the olives have been harvested, they are transported to the oil mill in a maximum of three hours. There they are cold milled (always below 22 degrees) with the utmost care using the most advanced and modern machinery.
Once filtered by natural processes, the new oil is racked to our cellar where it rests in small stainless steel tanks in an inert atmosphere thanks to the use of nitrogen and maintained at a constant temperature by means of an innovative climate control system.
1
Selection of the District
Within the estate, we select a few Districts where the highest quality fruit is concentrated. Each year may vary.
2
Collection
We select the olives tree by tree and harvest them with an umbrella vibrator. That way we do not cause them any harm.
3
Transportation
We transport the olives to the mill in less than two hours in small containers.
4
Grinding
We grind with a double sieve mill with a speed reducer so as not to heat up the mass.
5
Whipping
We perform the cold whipping with a refrigerated, airtight blender, without adding water. At about 21 degrees.
6
Decanting
Decanting is carried out in a vertical centrifuge. We do not add water during the process.
7
Filtering
Filtering through cellulose plates is an important part of the process for further optimal preservation.
8
Conservation
We preserve the oil in stainless steel tanks in an inert atmosphere (with nitrogen) at a controlled temperature.
9
Packaging
We bottle on demand, injecting nitrogen into the bottles to preserve the taste of our oils.
The Oil Mill
Our oil mill has ISO 22000 process certification and our oils have the B.R.C., I.F.S., Andalusian Certified Quality and the 9001 certification we have just obtained. In addition, our carbon footprint has been certified by Det Norske Veritas (DNV) and we are committed to reducing our carbon footprint year on year.