International Meeting on Sustainable Winemaking, Asturias, Spain
Introducing our biodynamic olive oil in the International Sustainable Winemaking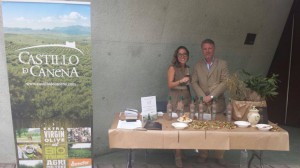 The first meeting of Sustainable Winemaking organized by Coalla Gourmet in the Botanical Garden of Gijón (Asturias, Spain) was a hit beacuse its audience and conception itself! In this meeting of vintners and farmers committed to the environment, we also participated with our latest project, the Biodynamic Picual EVOO.
The wonderful botanical garden Gijón offered a unique framework for this event. Between the green of the trees and the murmur of a small waterfall, vintners and farmers shared their sustainable farming practices. The event organizer, Coalla Gourmet, presented a small exhibition of biodynamic preparations which are used in this type of agriculture certified by Demeter. The aromas of chamomile, nettle and manure, remember us the smells of the countryside.
In our booth we offered our Biodynamic olive oil, but also, some organic products from our farm, as the delicious pistachio, almonds, acorns and our delicious honey, as well as a small recreation of our farm with fennel, basil, bay leaf, rosemary and esparto.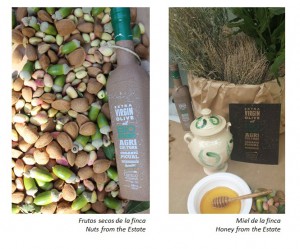 At the fair the following vintners were present: Albert Mann (Alsace, France); Azul y Garanza (Navarra, Spain); Belondrade (Rueda, Castilla y León, Spain); Bodegas Ostatu (Rioja, Spain); Celler Credo (Reccared Group); Penedes; Descendientes de J. Palacios (Bierzo, Castilla y León, Spain); Domaine Arlaud (Burgundy, France); Dominio do Bibei (Ribeira Sacra, Galicia, Spain); Eulogio Palomares Zárate (Rias Baixas, Galicia, Spain); Finca Sandoval (Manchuela, Castilla La Mancha, Spain); La Ferme de la Sansonnière (Loire, France); Los Astrales (Ribera del Duero, Spain); Quinta da Muradella (Monterrei, Galicia, Spain); Quinta Sardonia (Valladolid, Spain); Tentenublo Wines (Rioja, Spain) and Vincent Dureuil-Janthial (Burgundy, France).
If you would like to read a little more, we have leave some interesting articles published in Spanish by the way:
– The Garden of wines, Asturias24.
– Drinking a landscape: the biodynamic wines of Mark Angeli, Asturias24.
We are counting days to the next meeting !!
September 2014