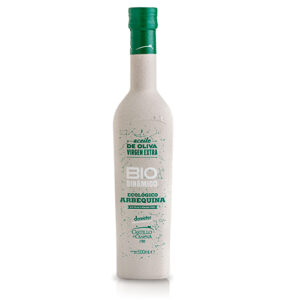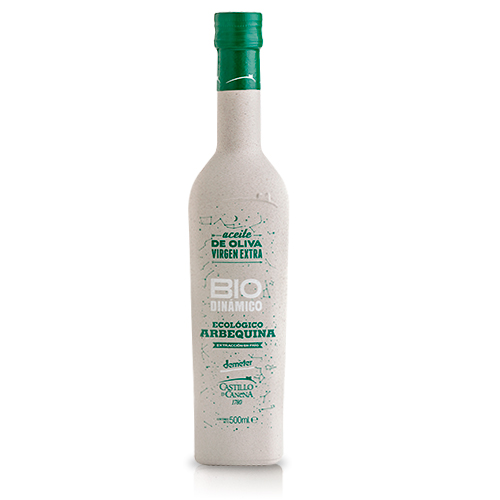 Biodynamic Arbequina
23.10€
Biodynamic Agriculture is a step forward from the ECOLOGICAL farming method. It is based on the harmonization between the different forces that govern Nature: seasons, atmospheric phenomena, lunar cycles, position of the constellations in the cosmos. Biodynamic agriculture seeks the integral balance between the soil, the trees, the animals and Man.
This organic EVOO has been produced according to the highest standards of biodynamic agriculture. It is a process that seeks harmony and balance between the different forces of nature in order to establish the optimum times for pruning, irrigation, sowing and harvesting. A perfect harmony between land, trees, animals and man in a sustainable and integrated cycle, which feeds back naturally.
This is how Arbequina Biodynamic oil was born, specially created for those who seek a healthy lifestyle, as it is much more nutritious and contains more antioxidants, as well as being sustainable and ecological. Fresh and expressive, it stands out for its herbaceous notes.
DESCRIPTION
A careful design, with a colour and texture that takes the consumer back to our origins, to the land where our trees are grown.
Tasting notes: green apple, green almond, freshly cut grass and nutshell. This is a fresh, lively and expressive Extra Virgin Arbequina Oil, with herbaceous notes and a smooth entry on the palate, which is quickly followed by a slightly bitter aftertaste and a progressive spiciness that ends on the tip of the tongue. Finally, there is an aftertaste of dried fruits and nuts.
ADDITIONAL INFORMATION
We are Demeter certified. An international certification that guarantees compliance with all the requirements of this type of biodynamic agriculture.
Serving suggestions: especially for salad dressings, grilled vegetables, vegetable creams, fresh cheese, white fish and poultry.
Store in a cool place away from light and heat.
Description
Un diseño cuidado, con un color y una textura que hace viajar al consumidor a nuestros orígenes, a la tierra donde se cultivan nuestros árboles.
Notas de cata: manzana verde, alloza, hierba recién cortada y cáscara de nuez. Se trata de un Aceite Virgen Extra Arbequino fresco, vivo y expresivo, con notas herbáceas y una entrada en boca suave tras la que rápidamente aparece un amargo poco intenso y un picante progresivo que termina en la punta de la lengua. Finalmente, aparece un retrogusto de frutos secos.