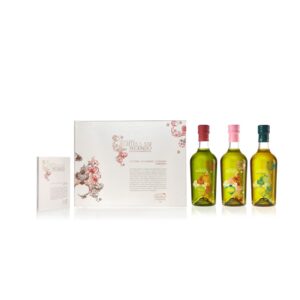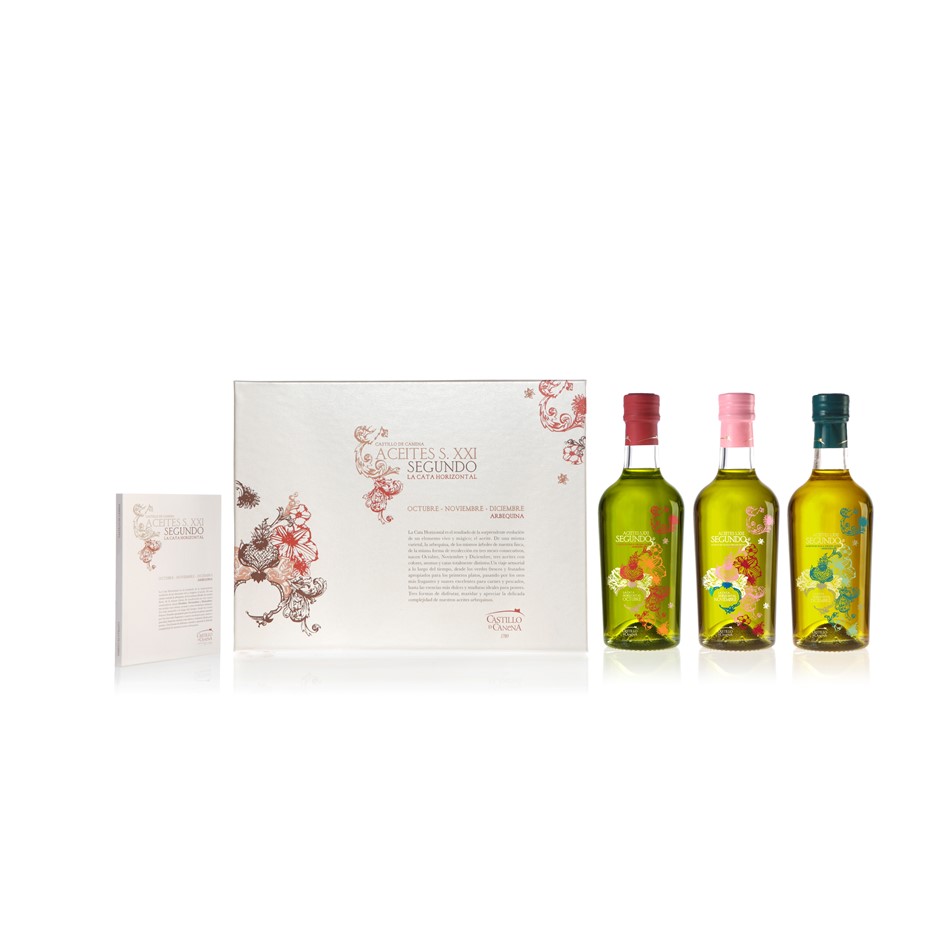 A gastronomic experiment to observe the evolution of oils during three consecutive months: October, November and December. For the first time in Oil, a transparent bottle covered with a UVA filter has been used to preserve the oil and
to observe the evolution of color.
For lovers of gastronomic experiences we offer you La Cata Horizontal. This is a unique sensory journey where you can enjoy and observe the evolution of the Extra Virgin Olive Oil, from the same variety, Arbequina, harvested during three consecutive months -October, November and December- on the family estate. This way you can experience the organoleptic differences between the different harvesting months.
Unlike wine, in the world of olive oil you cannot play with vintages because it does not improve over the years. However, as the months go by, the oil does evolve in both colour and taste, from an intense dark green oil to a more golden, ripe and almost sweet one. For this reason, instead of proposing a vertical tasting by vintage, as would be the case with wine, in this experiment we offer a horizontal tasting by month.
For the first time, transparent screen-printed bottles coated with a state-of-the-art colourless varnish that protects the oil from UV rays have also been used to make the colour differences visible.
The Horizontal Tasting is part of the 21st Century Oils, a collection that pursues the excellence and innovation that Castillo de Canena started with its Family Reserves.
DESCRIPTION
The three EVOOs have different colours, aromas and flavours.
The olive juice obtained in October has a green colour, a fresh aroma and notes of green apple and green almond, being spicy and somewhat bitter.
The November extra virgin olive oil is green-gold in colour, with an almond and fruity aroma and a taste of green apple, almond, nuts and fruit, with a light spiciness and bitterness.
Lastly, the December oil is golden, reflecting its maturity, with a sweet, almondy aroma and a taste of ripe fruit and almonds.
ADDITIONAL INFORMATION
Serving suggestions: enjoy the oils of the Horizontal Tasting and cook the first dishes with the October EVOO. Main dishes taste better with oil harvested in November and dress your desserts with oil harvested in December.
Store in a cool place away from light and heat.
Description
Los tres AOVES presentan colores, aromas y sabores distintos.
El zumo de aceituna obtenido en octubre presenta un color verde, un aroma fresco y en la cata se aprecian notas de manzana verde y almendra verde, siendo picante y algo amargo.
Por su parte el virgen extra de noviembre es de color verde-dorado, con un aroma almendrado y a fruta, y con una cata a manzana verde, almendra, frutos secos y fruta, siendo ligero en picor y amargor.
Finalmente, el aceite del mes de diciembre es dorado, reflejo de su madurez, de aroma dulce y almendrado y con una cata a frutas maduras y almendras.